Awards Banquet
Jan. 18, 2020
American Legion Hall
Post 278
Queen Anne's County

2020 Board Meetings
Kent Island American Legion Post 278
Romancoke Road Stevensville MD 21666
February 2
April 5
July 19
October 11
**Several
Stories **
NWTF NATIONAL ROGER LATHAM AWARD

The NWTF presents
Roger M. Latham Sportsman Wild Turkey Service Awards
to members who are not employed as professional wildlife managers but have made significant contributions to wild turkey conservation.
Only Five are Awarded Each Year

Boarman Earns Conservation Award


Susan Boarman, of Newburg, Maryland, has received national recognition from the National Wild Turkey Federation as the recipient of the
Roger M. Latham Sportsman Wild Turkey Service Award
for her nearly 30 years of dedication to the organization and for her outstanding commitment to the NWTF's Save the Habitat. Save the Hunt. initiative.

"The Roger Latham Award is absolutely an amazing honor," Boarman said. "I'm blessed with so many great NWTF friends who give their time, talent and resources to making their communities, their states and this nation a better place. These dedicated volunteers have guided and encouraged me over the years, and I know this achievement belongs mostly to them. The NWTF mission brings so many diverse people together for common goals, and year after year the magic happens."

For the last 19 years, Boarman has served as Maryland's NWTF treasurer, among various other roles, including her 30 years of service as a volunteer. In addition to her many crucial roles within the NWTF, Boarman is a wife, mother, grandmother, avid artist and dog trainer.

"Susan's dedication serves as a prime example of what dedication and hard work can accomplish on the state level," NWTF CEO Becky Humphries said. "We are thankful to have her as part of our team and look forward to her future accomplishments."


SUBSIDY SEED PROGRAM*
The Maryland Spring Seed Subsidy Program is up and running for this spring.
Members can purchase up to 2 total bags of seed at 50% off.
FIRST-COME, FIRST-SERVED until funds are used up!
This is a good deal for anyone that has
some small wildlife plots they'd like to improve.
You can choose between Chufa, 2 types of clover mixes, and buckwheat.
Click on this link to order...
NWTF Seed Subsidy
Feel free to distribute this link to any members in your chapter that may want to take advantage of this offer.
*
Limited to NWTF Members Only in the States where they reside in and are participating in the program.
Summer Turkey Droppings News
I hope you had a chance to make it out into the spring turkey woods back in April and May and I hope that you were successful in taking home some lasting memories. If you were able to bag a gobbler, even better.
Living in Maryland affords us all a lot of great opportunities in the outdoors. From the crystal clear trout streams to the steep mountains of Western Maryland. From the Flats of the Chesapeake Bay to the shores of the Atlantic. We have a lot to be thankful for. We also have a lot of opportunities to get outdoors and enjoy what our state has to offer.
I am really proud of what our chapters are doing within the state! Each year, through mentored hunts and their outreach events, we are introducing more and more people to hunting. WAY TO GO!!!
With the vast array or habitat we have in the state, there are many opportunities to introduce someone new to the outdoors. It is up to each and every one of us to pass along out hunting heritage along to the next generation.
Throughout this newsletter you will see and read numerous examples of how our chapters are making this happen. Please take a minuet to read their stories. In the back of this newsletter you will also find the contact information for the chapters within the state. If you would like to become part of a chapter, feel free to contact the chapter presidents, or contact myself.
Thank you, to each and every one of you for your continued support of the NWTF and the Maryland chapter. I hope you and your family have a GREAT summer. Enjoy time with family, scout for those big bucks and make time to introduce a new person to hunting!
Perfect Morning for a First Turkey
The morning of May 5th started like most mornings this spring did, overcast after a rain. This morning was special because I had a chance to take my wife, Renee who a lot of you know, out for her first turkey hunt of the year. We were both excited because I had been seeing a lot of birds around our farm just north of Hagerstown.
Renee had gotten her own 20 ga. shotgun this past year and was very excited about getting a chance to tag a bird with it. We set up a couple of targets the evening before for her to bust and she did just that! She was ready!!
As we got to the farm we discussed how she thought we should set up. I wanted her to have as much input into her hunt as possible. We decided to place our decoys in an opening in the fence so the birds could see them. You see, the birds always roost on the neighbor's property and the fence line is very thick. We used our Avian X decoys that morning. I set my laydown hen on the ground with a ¼ strut jake over top of her. I then set a feeder hen off about 10 feet from the jake. We had our ground blind set about 20 yards off of the decoys. The stage was set. Would it work? Would the birds read the script?
As the fog burned off and the skies began to lighten we heard our first of what would be many gobbles! We sat there enjoying the chorus of the spring and soaking in the sights and sounds of God's creation when Renee saw the turkeys start pitching down into the field about 300 yards away. 4, 8, 10 birds. There ended up being close to 15 birds in the main group. WOW!!! What a show!! There were 4 longbeards in that group, and they were ALL fired up! As we were watching those birds we heard two gobblers gobbling back in the back in an isolated finger of the woods. This is gonna be a GREAT morning!
As we were watching the main group, Renee saw two lone hens on the edge of the field about 75 yards away feeding. We were hoping that the hens would bring the main group of birds down to us when all of a sudden the hens made a bee line for the edge of the woods. WHAT HAPPENED?!?! We didn't spook them! I grabbed my binoculars and started to scan the field edge when I picked up the white head and fan of gobbler. Ahh…. They were going to the gobbler. I told Renee to be ready because they might try to slip into our field since the gobblers heard my calling.
We were patiently waiting when I peeked out of the left hand side of the blind and see a gobbler in full strut, not 100 yards away! I told Renee, "Strutter in the field. Get ready!" As I watched him strut I saw the two hens in front of him. Then Renee said that she saw another strutter (I couldn't see the second one at that point from my vantage point). As the hens walked further into the field, the gobbler we saw first gave way to the second gobbler and he took over the show. He strutted his way to the top of a little rise in the field and let off a thunderous gobble as he saw our decoys. HERE HE COMES!! GET READY!!
The boss gobbler strutted his way right into our decoys! Renee did not feel comfortable taking a shot as the gobbler was walking so she waited till he stopped. Problem was, he didn't stop till he was IN the decoys! Boy, did he put on a show though! He attacked our jake decoy and was not about to let a jake take one of his hens. He was MAD!!
Renee asked if she could shoot while he was in my decoys and I lovingly said "DON'T shoot my decoys!" Unfortunately, she missed on her first shot and started to get a little frazzled but the gobbler was none the wiser and stayed, continuing to attack the decoy. I whispered to her to relax and smash him, just like we practiced. At the report of the second shot, he was flopping!!
WAY TO GO!!! YOUR FIRST BIRD!!! You see, this was not only her first bird, this was her first animal period. I grabbed the front of the ground blind and threw it over top of us and ran out to see her bird. As I turned around I saw that she was taking her time walking up to me and her bird. I asked her if everything was ok (besides me knocking her hat off when I threw the ground blind off of us). I noticed that she was getting a little emotional and had a tear in her eye. I asked her what she was feeling at that exact moment. She said that it was sad and emotional because she had just killed something. I told her that is a normal, natural feeling and that if you ever stop feeling THAT, you need to stop hunting. I then asked her, besides that feeling, what are you feeling? She said "can we go tomorrow?!"
This is a hunt that I will never forget. I was able to share this beautiful morning with my best friend! Renee was able to have an amazing hunt AND be home in time to spend time with our granddaughter Addie! It doesn't get any better than that!
Renee's equipment included a Mossberg SA-20 ga shotgun with an Indian Creek .555 choke tube. She was shooting Apex 7.5x9 Smalltown blend shells.
Her bird was 24#, had an 11 ½ beard and sported 1" spurs! I'm proud of you Renee!!!
Maryland State Chapter
MENTORED TURKEY HUNTS 2018
The weekend of April 21& 22 was a very exciting one for 14 new hunters.
The Maryland State Chapter
in partnership with
Maryland's DNR and US Fish & Wildlife Service
sponsored a mentored hunt at
Blackwater National Wildlife Refuge.
All of our hunters were chosen by random lottery from a pool of applicants, the only requirement being that they had never hunted before or could no longer hunt without assistance.
Thanks to all the mentors and other volunteers that contributed so much to make the event such a great success.
Special thanks to
Muddy Marsh, Whistling Creek and Tudor Farms/Young Life
that generously offered their time and expertise to be a part of the hunt as well.
Congratulations to our four hunters that were blessed to tag a bird!

Click on image for small slide show
Maryland State Chapter
Awards Banquet
The Maryland State Chapter recently held its
Annual Awards Banquet
in which individual and local chapters were recognized for their outstanding achievements.
The
Attached File
is a slide show of the event.
Please enjoy!!
Monocacy Valley Chapter
Chapter News Letter
Newsletter (Vol. 2, Issue 2)
The following are links to the past MVC's Talking Turkey Newsletters:
Newsletter (Vol. 2, Issue 1)
Newsletter (Vol 1, Issue 4)
Newsletter (Vol 1, Issue 3)
Newsletter (Vol 1, Issue 2)
Justin and Mason were hunting together the morning of April 30th and doubled on 2 longbeards
Brian was hunting on an adjacent farm and killed his longbeard.
All 3 birds were killed 10 minutes apart.
Grace won this spring hunt at our annual JAKES day.
The hunt was donated and guided by committee member Justin Weddle.
Hunter Smith, mentored by Brian Pikerowski, harvested his very first bird on Easter Sunday.
Brent Smith was able to be with each one of his son's as they harvested their first bird in consecutive days!!
Jacob was mentored by Kevin Morgan.
A Youngman's 1st Longbeard!
Front: Brian Wathan. Back: Bobby Boarman on left and Billy Moore on right.

A Hunt to Remember
April 12, 2015
Today was a usual hunting day, get up early and hunt all morning, but that wasn't the case. Today I hunted with my dad, Billy Moore, and Bobby Boarman, the southern Maryland NWTF chapter representatives and last but not least, our cameraman Joey Johnson for the second day of the youth hunt weekend. At 5:15 Billy picked me and my dad up at our house and headed to Bobby's farm near the Potomac River. We arrived at Bobby's around 5:45, with Bobby sitting in the truck. We talked to Bobby and we set up a game plan, we would walk along the edge of the field and see if we heard anything if we didn't we would move to another field. Sure enough, we heard one, so we stood where we were and we just listened to see if we could hear this big long beard in the trees. Bobby told me and Billy to sit against an oak tree nearby after we decided to try and call him in. So Bobby and Billy set the decoys 20 yards from the oak tree as I got situated and my dad handed me my Remington 1187 20-gauge shotgun. It was about 6:20 when we were all set up and he was gobbling like crazy when all of a sudden he flew down. It was about 6:41 when Bobby started calling real lightly and that long beard knew something was going on. It was a little far but at the corner of field I could see the turkeys head and he was strutting saying I own this place and I got a new girl. He then ran up to hen decoy and started to turn, that's when Billy told me to pull my gun up. I pushed the safety off, and slightly pulled the trigger. I had done it, at 6:51 a big long beard was on the ground. Bobby had pulled me to my feet and I walked toward my prize. A 9 ½ inch long beard with 1 inch spurs had been taken. I want to thank Bobby and Billy as well as Joey for taking the time to make this day happen, I will always remember this hunt.
Brian Wathen
Be Patient, Never Give Up and Trust in God
October, 2013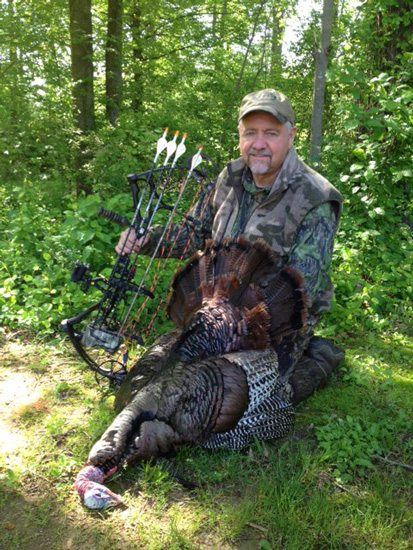 What a great year this has been. Turning 62 and preparing to retire after 40+ years, can be a challenging time but with the right mindset, it can be a time of new adventure, lots of fun and with a joyful spirit appreciating even more this life that we have while here on Earth. These golden years can be truly fantastic if we choose to wake each day with a new dream to dream. At this twilight time in life our reflections and stories do not have to outweigh our dreams and I have a couple of stories (dreams come true) to share.
Click Here to Continuing Reading (Requires Adobe Reader)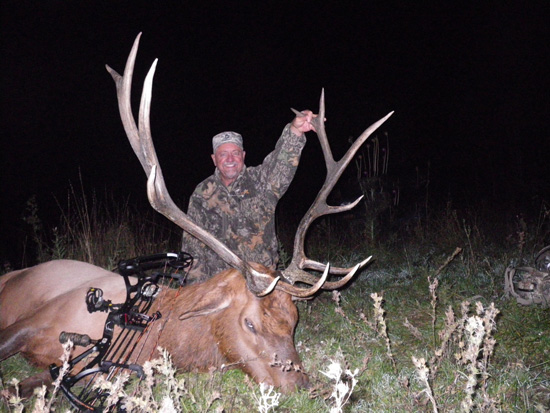 Above: Billy Moore with bull Elk he shot in CO with his bow.


Below: Billy Moore and Pat Langley with bull elk billy shot with his bow in CO.