Jakes 12 & Under - Xtreme Jakes 13 to 17

Keeping the North American hunting tradition alive, the National Wild Turkey Federation has a fun way to get our youth excited about the outdoor sports and conservation with the JAKES program.

JAKES stands for Juniors Acquiring Knowledge, Ethics and Sportsmanship, not to mention a lot of fun.
In JAKES, children ages 17 and younger learn the basic outdoor skills necessary to become successful stewards of our natural resources. They also learn to be responsible outdoorsmen and women through fishing, camping and hunting seminars taught by legends in the field. They learn to identify plants and animals, as well as how to effectively call in those elusive toms.
The NWTF has a great opportunity to teach children the value of our natural resources and the importance of conservation. These children will grow up knowing hunting plays a key role in wildlife management, and the dollars they spend to hunt go right back into state and federal conservation efforts.
---
2018 Young Guns Turkey and Deer Hunt

Click on image for Slide Show of Event
---
Monocacy Valley Chapter
20th Annual Jakes Day Event
March 24, 2018
Mayberry Game Protective
2555 Mayberry Road
Westminster, MD
8:00 - 4:30 - Rain or Shine
Please dress appropriately
EVENT POSTPONED - HELD APRIL 7th, 2018
For the first time in our chapter's history we had to
Postpone our Annual Jakes Event
scheduled for March 24th!
Because of snow!
Despite the chilly temps the morning of April 7th
we had 42 kids attend.
Our activities for the day included:
a woods walk, archery, shotgunning, retriever training and furtrapping demo.
We also had a special guest,
Mr. Raleigh Boaze, a frontiersman reenactor
that was very entertaining and informative.
Again this year we had a calling contest for the kids that has proven to be very popular.
Already looking forward to next years event!
---
Washington County Chapter
Jakes Day Report
April 7, 2018
The Washington County Chapter held its
Annual Jakes Day
on April 7, 2018
Brian Pikerowski
, Chapter President reported that the event hosted over 60 children who experienced "Bow Hunting" with 3-D Targets, Fishing, a great dinner, a very excited youngster who won a
Mossberg 500 Turkey Thug Shotgun
and another who caught a fish as large as he was.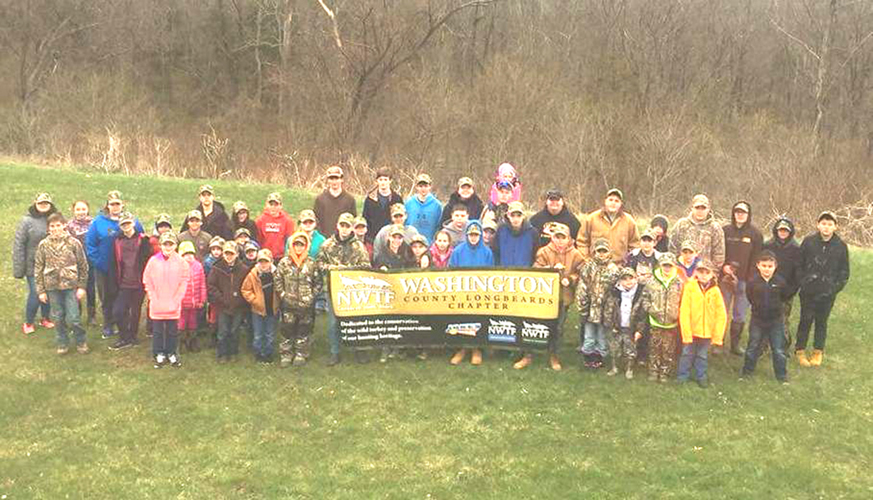 Click on image for Slide Show
---
Free State Chapter
Bill Rowan Jakes Day
April 14, 2018
Forest Hill
2733 Ady Rd
Forest Hill, MD 21050
Contact:
Tom Maliszewski
(443) 677-6110
tmaliszewski@acosta.com
---
Western Maryland Chapter
FISHING DERBY
May 19, 2018
Accident Town Park
102 North Main St • Accident, MD
Contact:
Brian Friend (301) 616-1869
bfriend@dnr.state.md.us
---
Patuxent Chapter
JAKES DAY
June 9, 2018
Sanners Lake Sportsmans Club
21374 Sanners Ln • Lexington Park, MD
Contact:
William Price
(301) 481-1266
bpricemdducks@aol.com
---
Bay Shore Jakes Day
June 16, 2018
Princess Anne Civic Center
11828 Crisfield Ln • Princess Anne, MD
Contact:
Dean Ennis
(410) 603-7281
pmc_inc@yahoo.com
---
Central Maryland Chapter
JAKES DAY
June 23, 2018
Meyer Station Nature Center
1600 Meyer Station Rd • Odenton, MDK
Contact:
Jennifer Miller
(410) 721-1930
tinkerbell306@verizon.net
---
State Line Strutters Chapter
JAKES DAY
June 23, 2018
Delmar VFW
200 E State St • Delmar, MD
Contact:
David Johnson
(302) 846-2688
davesappl@aol.com
---
Western Maryland Chapter
JAKES Event
August 12, 3017
Big Savage Sportsmens Club
11616 Dobbin Dr • Frostburgh, MD
Contact:
Brian Friend
(301) 616-1869
bfriend@dnr.state.md.us
---
Western Maryland Chapter
Extreme Jakes Sporting Clays Event
July 21, 2018
Wings of Challenge
1590 Everly Rd • Accident, MD
Contact:
Rodney Lipscomb
(301) 689-6639
---
Download Information and Registration on the Outreach Fund
NWTF Outreach Event Registration form (Word Document) Outreach Fund Information (Word Document)
---