Maryland State Chapter
Schedule of Events
Awards Banquet
Board Meetings
Kent Island American Legion Post 278
Romancoke Road Stevensville MD 21666
July 14th 2018
8:30PM
Sept. 30th, 2018
8:30PM
**Several
Stories **

Maryland State Chapter

MENTORED TURKEY HUNTS 2018

The weekend of April 21& 22 was a very exciting one for 14 new hunters.

The Maryland State Chapter

in partnership with

Maryland's DNR and US Fish & Wildlife Service

sponsored a mentored hunt at

Blackwater National Wildlife Refuge.

All of our hunters were chosen by random lottery from a pool of applicants, the only requirement being that they had never hunted before or could no longer hunt without assistance.

Thanks to all the mentors and other volunteers that contributed so much to make the event such a great success.

Special thanks to

Muddy Marsh, Whistling Creek and Tudor Farms/Young Life

that generously offered their time and expertise to be a part of the hunt as well.

Congratulations to our four hunters that were blessed to tag a bird!

Click on image for small slide show
Maryland State Chapter
30-Gun Raffle
Scheduled for November 2018
Tickets are now available for our 30-Gun Raffle.
Numbered from 000 - 999
Only 1000 tickets will be sold.
Winning Number for each day will be the Maryland Pick-3 Evening Draw
Tickets Valid for Entire Month of November
Tickets $25 Each

Contact:
Bobby Boarman
susanboarman55@gmail.com
301-751-9649
Maryland Sports Show
September 1st & 2nd, 2018
Maryland State Chapter's NWTF Booth Help Needed
Help is needed in setting up and manning the booth at this year's show.
Contact:
Russ Leith
rleith6@comcast.net
443-677-3669
Maryland State Chapter
Awards Banquet
The Maryland State Chapter recently held its
Annual Awards Banquet
in which individual and local chapters were recognized for their outstanding achievements.
The
Attached File
is a slide show of the event.
Please enjoy!!
Monocacy Valley Chapter
Chapter News Letter
Newsletter (Vol. 2, Issue 2)
The following are links to the past MVC's Talking Turkey Newsletters:
Newsletter (Vol. 2, Issue 1)
Newsletter (Vol 1, Issue 4)
Newsletter (Vol 1, Issue 3)
Newsletter (Vol 1, Issue 2)
Washington County Chapter
Yetti Cooler Raffle
July 4, 2018
Three Coolers to be raffled:
30 quart Hopper, 50 quart Tundra, and a 65 quart Tundra
1 for $10, 4 for $20, or 10 for $40
Contact any chapter member for tickets,
or email:
Chapter President-
Brian Pikerowski
301-992-2266
Justin and Mason were hunting together the morning of April 30th and doubled on 2 longbeards
Brian was hunting on an adjacent farm and killed his longbeard.
All 3 birds were killed 10 minutes apart.
Grace won this spring hunt at our annual JAKES day.
The hunt was donated and guided by committee member Justin Weddle.
Hunter Smith, mentored by Brian Pikerowski, harvested his very first bird on Easter Sunday.
Brent Smith was able to be with each one of his son's as they harvested their first bird in consecutive days!!
Jacob was mentored by Kevin Morgan.
A Youngman's 1st Longbeard!
Front: Brian Wathan. Back: Bobby Boarman on left and Billy Moore on right.

A Hunt to Remember
April 12, 2015
Today was a usual hunting day, get up early and hunt all morning, but that wasn't the case. Today I hunted with my dad, Billy Moore, and Bobby Boarman, the southern Maryland NWTF chapter representatives and last but not least, our cameraman Joey Johnson for the second day of the youth hunt weekend. At 5:15 Billy picked me and my dad up at our house and headed to Bobby's farm near the Potomac River. We arrived at Bobby's around 5:45, with Bobby sitting in the truck. We talked to Bobby and we set up a game plan, we would walk along the edge of the field and see if we heard anything if we didn't we would move to another field. Sure enough, we heard one, so we stood where we were and we just listened to see if we could hear this big long beard in the trees. Bobby told me and Billy to sit against an oak tree nearby after we decided to try and call him in. So Bobby and Billy set the decoys 20 yards from the oak tree as I got situated and my dad handed me my Remington 1187 20-gauge shotgun. It was about 6:20 when we were all set up and he was gobbling like crazy when all of a sudden he flew down. It was about 6:41 when Bobby started calling real lightly and that long beard knew something was going on. It was a little far but at the corner of field I could see the turkeys head and he was strutting saying I own this place and I got a new girl. He then ran up to hen decoy and started to turn, that's when Billy told me to pull my gun up. I pushed the safety off, and slightly pulled the trigger. I had done it, at 6:51 a big long beard was on the ground. Bobby had pulled me to my feet and I walked toward my prize. A 9 ½ inch long beard with 1 inch spurs had been taken. I want to thank Bobby and Billy as well as Joey for taking the time to make this day happen, I will always remember this hunt.
Brian Wathen
Be Patient, Never Give Up and Trust in God
October, 2013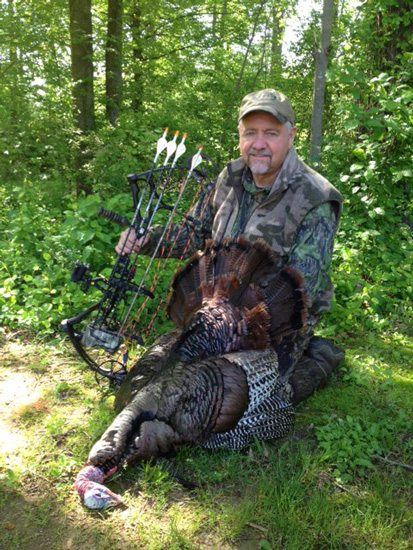 What a great year this has been. Turning 62 and preparing to retire after 40+ years, can be a challenging time but with the right mindset, it can be a time of new adventure, lots of fun and with a joyful spirit appreciating even more this life that we have while here on Earth. These golden years can be truly fantastic if we choose to wake each day with a new dream to dream. At this twilight time in life our reflections and stories do not have to outweigh our dreams and I have a couple of stories (dreams come true) to share.
Click Here to Continuing Reading (Requires Adobe Reader)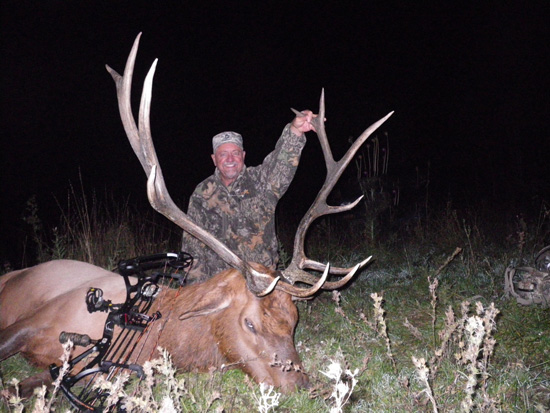 Above: Billy Moore with bull Elk he shot in CO with his bow.


Below: Billy Moore and Pat Langley with bull elk billy shot with his bow in CO.