**Several
events listed**
**Gun and Cash Giveway**
Contact your local Chapter for tickets. Click to find a local contact!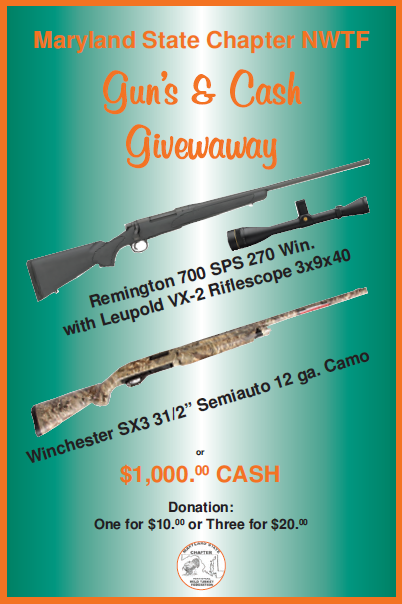 Get Ready for Turkey Season!!!
Check out the 3 "Smoke Phase" turkeys
Youth turkey hunt provides a look at the sport.
April, 2014
From left, guide Christopher Davidson, Hunter Arledge, Gunner Gsell, Nathaniel Neuland and guides Bob Cooksey and Johnny Miller.

IN EARLY APRIL, a few weeks prior to the beginning of the Maryland spring turkey season, I received a phone call from Wildlife Refuge Specialist Cindy Beemiller at Eastern Neck Wildlife Refuge. The refuge is a 2,000-acre island located on Maryland's upper Eastern Shore, about six miles south of Rock Hall. Beemiller was calling to inform me that my 15-year old son, Nathaniel, was selected for a annual guided youth turkey hunt at ENWR. For the past 15 years, the refuge has partnered with the National Wild Turkey Federation to provide a quality and educational youth turkey hunt.

I discovered this youth hunt opportunity on the Maryland Department of Natural Resource's website. The youth hunt is held on two Saturdays during the regular Maryland spring turkey season. Each year, dozens of hunters from across Maryland, ages 10 to 15, apply for the youth hunt at ENWR and only six lucky youths are randomly selected. The hunt is held on two dates with three hunters afield each day. Nathaniel was selected to hunt on April 19, the first date of the youth hunt.

Click Here to Continue Reading (Requires Adobe Reader)

Be Patient, Never Give Up and Trust in God
October, 2013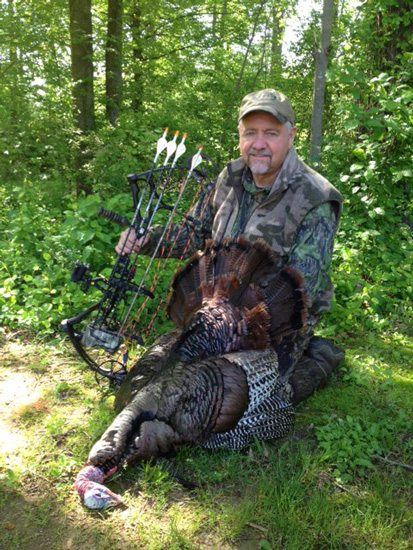 What a great year this has been. Turning 62 and preparing to retire after 40+ years, can be a challenging time but with the right mindset, it can be a time of new adventure, lots of fun and with a joyful spirit appreciating even more this life that we have while here on Earth. These golden years can be truly fantastic if we choose to wake each day with a new dream to dream. At this twilight time in life our reflections and stories do not have to outweigh our dreams and I have a couple of stories (dreams come true) to share.
Click Here to Continuing Reading (Requires Adobe Reader)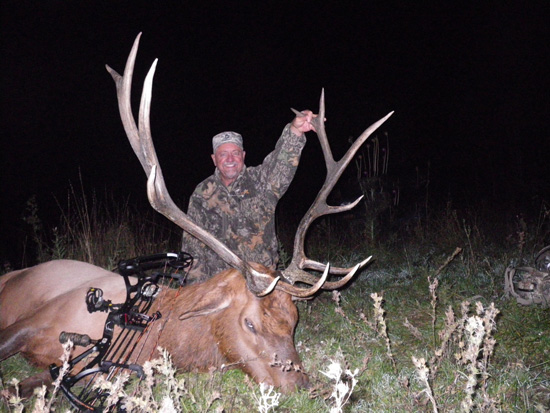 Above: Billy Moore with bull Elk he shot in CO with his bow.


Below: Billy Moore and Pat Langley with bull elk billy shot with his bow in CO.